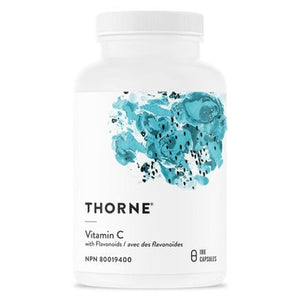 Thorne Research Vitamin C with Flavonoids 90 Capsules
Regular price
Sale price
$22.50
---
Vitamin C (ascorbic acid) is one of the most well known nutrients worldwide. Such recognition is deserved, considering its role in nutritional biochemistry. Not only is vitamin C a key antioxidant, protecting cells throughout the body from free radical damage, this water-soluble vitamin serves as a cofactor in the synthesis of important neurotransmitters, such as dopamine and norepinephrine, and plays an integral role in the production of cellular energy.  Vitamin C is essential for proper metabolism of carbohydrates and synthesis of fats and proteins.  It helps break down cholesterol and also helps maintain healthy immune function.  Vitamin C promotes wound healing because it is a cofactor for the synthesis of collagen and other connective tissue components.
The term ascorbic acid refers to vitamin C in its purest form, not bound to any other compound. Thorne's Vitamin C with Flavonoids contains ascorbic acid and citrus flavonoids (a mixture of naturally-occurring flavonoids, including rutin, hesperidin, and quercetin), and is 100 percent pure. Unlike many vitamin C supplements from other companies, Thorne's vitamin C supplements contain no corn starch. Although it is not true that ascorbic acid will not work in the body without flavonoids, vitamin C does work better when accompanied by flavonoid molecules, as their presence in cells spares vitamin C and provides greater antioxidant activity.
Vitamin C is an essential, water-soluble antioxidant for collagen stabilization.  A deficiency can result in poor collagen cross-linkage and weaker connective tissue.  Bioflavonoids have some of the same mechanisms of action, potentiating the effect of ascorbic acid.
In addition to immune support, connective tissue support, and its role in cellular energy production, antioxidant activity is one of the primary reasons for vitamin C supplementation.  In addition to strong antioxidant activity, flavonoids support other key functions in the body.  Factors dictating higher vitamin C include smoking, alcohol ingestion, stress, diabetes, pregnancy, environmental toxicity, and the use of certain drugs.
Features:
Synergistic blend of vitamin C and citrus bioflavonoids from oranges
Vitamin C and flavonoids the way they're found together in nature
Research shows a decrease in occasional sneezing and runny nose (not associated with a virus) with increased vitamin C intake
Medicinal Ingredients: 
Per Capsule:
Vitamin C (Ascorbic Acid) 500 mg
Citrus Bioflavonoids (Citrus sinensis (orange) and Citrus paradisi (grapefruit) rind) 75 mg
Non-Medicinal Ingredients:
Hypromellose (derived from cellulose) capsule, Silicon Dioxide.

Recommended Dose:
Adults & Adolescents (14 years and over): Take 1-2 capsules daily with water or as recommended by a health-care practitioner. Children (4-13 years): Take 1 capsule daily with water or as recommended by a health-care practitioner.

Warnings:
Consult a health-care practitioner prior to use if you are taking any prescription medications, and/or if you are pregnant or breastfeeding. Do not use bioflavonoid combinations containing tangeretin if you are taking tamoxifen for breast cancer. This product can cause photosensitivity in people exposed to high levels of UV, especially in people with fair skin.  This product is contraindicated in an individual with a history of hypersensitivity to any of its ingredients.  If pregnant, consult your health-care practitioner before using this product.  Vitamin C can cause diarrhea in some individuals in large doses, which can vary from person to person. This resolves when the dosage is reduced.  Do not use if security seal inside the cap is broken. Store tightly sealed in a cool, dry place.