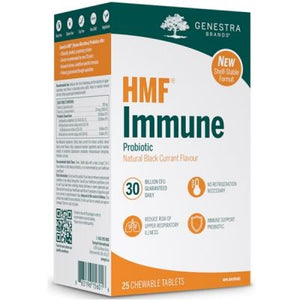 Genestra HMF Immune Probiotic Shelf-Stable 25 Chewable tablets
Regular price
Sale price
$59.75
---
HMF Immune Probiotic
Shelf Stable
Soy Free
Dairy Free
GMO Free
Vegetarian
Gluten Free
No refrigeration necessary
Potency guaranteed through expiration
Once-daily chewable tablet available in a delicious natural black currant flavour
Reduces the risk of developing and the duration of upper respiratory tract illness in physically active adults
Provides 30 billion CFU per dose from a combination of five proprietary human strain probiotics, plus vitamins C and D
HMF Immune combines proprietary human strain probiotics with vitamins C and D to provide targeted support for the immune system. Each convenient, once-daily chewable tablet provides a blend of five research-driven probiotic strains from both the Lactobacillus and Bifidobacterium genera.
As nearly 80% of the body's immunologically active cells are located in gut-associated lymphoid tissue, an important connection has been demonstrated between the intestines and the immune system. In addition to supporting gastrointestinal health, HMF Immune includes Bifidobacterium animalis subsp. lactis (Bl-04), a strain that has been shown in a clinical trial to reduce the risk of developing and the duration of upper respiratory tract illness in physically active adults.
Additionally, it offers Lactobacillus acidophilus (CUL-60 & CUL-21), Bifidobacterium animalis subsp. lactis (CUL-34) and Bifidobacterium bifidum (CUL-20), which were demonstrated in a clinical trial to support upper respiratory tract health when combined with vitamin C. To further help maintain immune function, HMF Immune contains vitamins C and D. Vitamin C supports the immune system by regulating lymphocyte proliferation, natural killer cell activity and immunoglobulin production, while vitamin D helps control T cell activation, cytokine release and phagocytosis in macrophages.
Research demonstrates that vitamins C and D may be especially effective in maintaining immune function in the respiratory tract.5,6 This convenient shelf-stable format has guaranteed potency at expiry and may improve patient compliance.

Ingredients
Each Chewable Tablet Contains
Vitamin C (ascorbic acid) . . . . . . . . . . . . . . . . . . . . . . . . . . . . . . . 100 mg
Vitamin D3
(cholecalciferol) . . . . . . . . . . . . . . . . . . . . . 25 mcg (1000 IU)
Probiotic Consortium . . . . . . . . . . . . . . . . . . . . . . . . . . . 30 billion CFU
Lactobacillus acidophilus (CUL-60 & CUL-21) . . . . . . . . 20 billion CFU
Bifidobacterium animalis subsp. lactis (CUL-34)
& Bifidobacterium bifidum (CUL-20) . . . . . . . . . . . . . . . 5 billion CFU
Bifidobacterium animalis subsp. lactis (Bl-04) . . . . . . . . . 5 billion CFU
Non-Medicinal Ingredients
Xylitol, black currant fruit extract, sorbitol, natural
black currant flavour, silica, magnesium stearate. Ingredients used to maintain
viability of probiotics (dipotassium phosphate, monopotassium phosphate,
trehalose, sucrose)